​
SINCE 1987, The Mt. Shasta Race Association (MSRA) has been the umbrella organization for Mt. Shasta Ski & Snowboard Team (MSST), the Master's Program, and High School Racing. We strive to promote the benefits of a community oriented mountain lifestyle by building strong skiing and riding skills and fostering a lifelong passion for winter sports. Under our guidance, athletes learn to maintain high standards for personal, athletic and academic achievement. MSRA is committed to providing the highest quality coaching and training environment. Our teams emphasize safety, fundamentals, sportsmanship, discipline, camaraderie and fun while maintaining an affordable program that will lead each athlete to reach their potential.
​
Our Goals:
​
Provide a program that emphasizes safety, fundamentals, teamwork, sportsmanship, camaraderie and fun.

Promote focus, discipline, and perseverance among athletes for their continued success in school and life.

Develop skiers and snowboarders who will enjoy the mountain environment their entire lives.

Maintain an affordable, fundamental, and progressive program that integrates the philosophies of USSA.
Program Director / Head Coach
"I am a product of the North State; I was raised in Mendocino and graduated from Chico State University. I began coaching ski racing with the Shasta High School Alpine Team and have been a coach with MSST for the past four years".
Kareem has a long history of working with youth sports organizations and looks forward to bringing his passion for skiing, snowboarding and coaching to his Program Director position.
Chris Chase
MSRA President
Chris learned to ski as a young child in Vermont at a small ski area that his family owned. He and his wife Courtney have lived and skied in Montana, Oregon, Michigan, and California; never more than an hour from a ski area. Chris's passion for skiing and racing is shared by his family. All of his kids have raced in MSST programs and benefitted tremendously from the program. Chris was an assistant coach of the Mt. Shasta High School Alpine team from 2017 – 2020. He has served as MSRA President since 2014.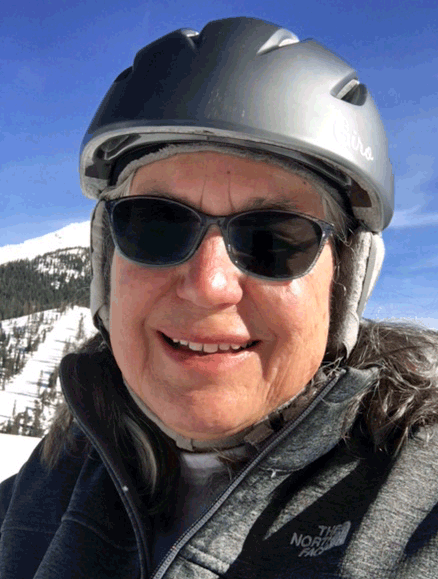 I learned to ski when I was in Junior High at Badger Pass in Yosemite National Park. I continued skiing with my husband and daughter. When our daughter, Val, joined the Red Bluff High Alpine Team in 1996, we volunteered and later became assistant coaches to the team for over 15 years. I also served as the Head Gatekeeper for several years of Division North II and State Championships. Lately, I have been serving as the MSRA Treasurer and learning how to time races. We now live in Hammond Ranch north of Mt Shasta City.
Henrik Karlsson
Volunteer Coordinator
Tanya and her husband Wayne began their participation in MSST when their oldest daughter, Dana, was a starter. Dana has achieved her Masters in Education from College of Idaho..... Tanya is the AP English teacher and head Alpine Coach at Shasta HS, where she started coaching 11 years ago. Tanya serves as the HS representative on the board. When not skiing, Tanya and Wayne enjoy mountain bike riding and white-water rafting. Tanya is a USSA level 100 coach, Wayne a level 200.
Dr. Paul Schwartz
High School Coordinator
Dr. Paul Schwartz has been coaching high school snowboarding for over 20 years. He has won two State CNISSF snowboard championships with Shasta High School, and he has traveled with local athletes to Copper Mountain for the USASA National Championships at least three times. Athletes he has coached have won high school and national titles.
Dr. Schwartz founded Shasta Orthopedics in Redding, where he still practices. Dr. Schwartz represents CNISSF on the board as the Division Coordinator.
Brian Santos has been with the ski team for twenty-two seasons coaching advanced programs. Brian is a highly qualified coach being a level 400 ski instructor. As a ski racer he won many medals at the U.S. Championships and at two Winter Paralympics, as well as being named to the National Disabled Ski Hall of Fame. Brian's racing and coaching expertise is unparalleled in our region. Local skiers and racers have benefitted from his skills for many years.
Brian Santos
Masters & Far West
Kareem Speake
Regional & Far West
"I am a product of the North State; I was raised in Mendocino and graduated from Chico State University. I began coaching ski racing with the Shasta High School Alpine Team and have been a coach with MSST for the past four years".
Kareem has a long history of working with youth sports organizations and looks forward to bringing his passion for skiing, snowboarding and coaching to his Program Director position. Kareem is a USSA level 200 coach.
Sydnie Williams
Regional Team
Ryan O'Malley
All Mountain Team
I was born and raised in Mammoth Lakes, CA. I started skiing at the age of 3 and grew up in the race program at Mammoth. I competed extensively in the Far West region and made it to Junior Olympics as a J3 and J2. After getting a bit burned out on racing, I joined the newly created "freeride" team that Mammoth Mountain started and I competed in halfpipe, slopestyle, big air, skier cross and big mountain competitions. Through both alpine and freestyle competition, I was able to travel and complete across the western US and into Canada. I am grateful to have grown up in a ski community and be part of a sport that helped shape who I am today. I am now passing my lifelong love of skiing on to my children and look forward to another fun season of coaching with a great group of kids and staff at Mt Shasta.
I am from Yreka CA, and have been skiing Mt. Shasta and Ashland since I was 3 years old. Within the last few years I have worked as a ski instructor at Mt. Shasta, and discovered that I love working with people to advance their skills and increase their level of enjoyment on the mountain. Skiing is my greatest passion, and my goal this year is to share and pass along this passion with as many skiers as possible.
Isaiah Solus
All Mountain Team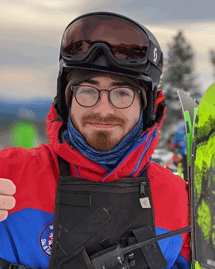 Hello! My name is Adam, born and raised in Mt. Shasta. I've been skiing this mountain since I was 4 years old, and truly feel like it is the back of my hand. I found a passion for passing on my knowledge and respect of the mountain a few years ago. Through skiing so much about life and nature can be discovered. The first time I had an athlete under my guide find their true ability on the hill, was one of thee most electric and exciting moments I've ever had. This will be my 4th season of coaching/teaching. As always, pray for snow!
Adam Patterson
All Mountain Team
Audrey Vierra
Team Starters
I have been participating and ski racing for Mt. Shasta Ski Team since I was six years old. I have grown up with this program, traveling to the mountains every weekend to ski and am so excited to be working my second year of coaching! In the summers, I am a swim instructor for younger children and a life guard as well. I have a strong passion for working with kids and am so excited to be meeting new people and skiing with them! I love teaching new skills and having fun along the way. Skiing is such a passion of mine and I will be praying for snow as the season arrives!
I first began skiing 13 years ago in the Midwest at Perfect North Slopes. I loved being on the mountain and quickly found my place in the terrain park and competing slalom and GS in high school. I moved to the Redding area this fall and am excited to get involved in the community and meet all of the athletes this season. I have over five years of coaching experience and am looking forward to bringing my passion for skiing and teaching to the athletes at Mt Shasta Ski Park.
I was born and raised in Redding and when I'm not studying I spend most of my freetime outdoors. I've competed at the state level in 4 different sports including alpine. I was on the mount shasta ski team when I was younger. I then raced in highschool for my junior and senior year and enjoyed every second of it. I look forward to skiing like crazy with the next batch of athletes.
Nicholas Lindsay
Team Starters
Wayne Randolph
Training Instructor
Substitute Instructor
I learned to ski at Mt. Lassen Ski Area, where I became part of the Race Team. I raced Far West in Tahoe and Saturday evening downhills at Lassen. My daughters Dana and Jenna both grew up skiing with MSST, racing through high school, and now in college. Skiing and ski racing has brought a lot of joy and friendships to our family, and I have found it such a valuable experience I love to share it with others. I've coached for Shasta High School for ten years, MSST for the last three, and organize a middle school ski/snowboard club for Boulder Creek School. I'm a level 200 USSA coach that brings a lot of experience, desire to build lifelong skiers, and love of skiing to the team.
Sandy Speake
All Mountain
MSST would like to welcome Sandy Speake as our All Mountain Snowboard Coach! Sandy is 23, a senior at Chico State studying Environmental Science with an emphasis in hydrology. Sandy graduated from Shasta HS in Redding, where he raced for their Alpine Team for 4 years, and raced USASA for the last 3 of those years. He won the North Division HS in both is junior and senior years. Sandy has done more freestyle riding and split boarding since graduating. Welcome!
Marc grew up jumping into the high school race training line as a 7th grader, and raced 4 years of high school and USASA. Marc took 4th in GS at the CA state championships, then 4th in the USCSA Collegiate Championships at Jackson Hole as a freshman for Sierra Nevada University. He has coached for MSST and has been a snowboard instructor at Diamond Peak. Marc is studying Resort and Ski Park Management and Outdoor Leadership, while training with the Auburn Ski Club.
Jenna began racing with MSST as a starter, and raced with MSST and Shasta High School through last year. Jenna is attending the University of Idaho in Moscow as a Business and Outdoor Leadership major. Jenna is preparing to race for U of I. Jenna began coaching for MSST year before last, but returned to training and racing with the Far West group her senior year. We welcome Jenna back for our Winter Camps! Jenna is also a USSA Level 100 coach.
John Miller is the head alpine coach for Red Bluff High School, and has been helping coach the holiday camps for a couple of years now. John has also coached wrestling, football and competitive shooting at RBHS!
Dana began with MSST as a starter, and raced in Far West races, then at Shasta High School. Dana followed high school racing with a successful run at College of Idaho, including four appearances at the USCSA Nationals. Along the way Dana found a fondness for skiercross, and gained her USSA Alpine 100. Dana was known for her grit, determination, and will to train through all nature could offer. Don't look for your kids at the flag if the weather turns a little ugly if they're with Dana.......
Sean Konu
Chief
Of Course
Ben is on hiatus this year, but we hope he will rejoin us next year. Ben is a USSA 100/PSIA 2 who is wonderful with kids and prepping courses.
Holly is an LCSW/MSW with the state of CA when she isn't helping to move MSRA forward in a positive, organized direction. Holly is the friendly face of our program, ready to answer questions and point people in the right direction.
Holly Speake
Program Administrator
Mike MacAllister
Media Director
My lifetime hobby has been sports photography. I found ski racing to be a very satisfying subject, but to capture the action and color I needed to be on the course itself, up close. I worked my way onto the team by providing the athletes and parents with race photos. My self-taught skills with digital imaging and computers provided the team with someone who could build a website, fill it with media (all the photos and almost of the videos on this website are mine) and do the "digital dirty work" needed in the background to bring the team into the modern age.
Greta de la Pedraja
Race Timer